Three of My Favorite Things
Happy Tuesday everyone! Only three more days until the weekend (but who's counting)!
Some very exciting news! I wrote an article for Women's Health Magazine about what really happened the day of the NYC Half Marathon. Check it out here. I had a lot of fun writing it- I hope you enjoy!
Today I wanted to write about three things that have changed my running life and I hope will change yours. Two have to do with sweating and one has to do with your feet (I know running is very glamorous.) I ran my first half marathon in cotton leggings and I learned two very important lessons- 1. Cotton is not your friend and 2. Chafe cream is real and you need it. Now I don't know about you, but I sweat. There are people who do not sweat and they make me green with envy. If it's a degree over 40, I am sweating
1. Sweat Wicking Material
As I learned, cotton retains moisture and is chafe central USA. Sweat wicking socks, leggings and dry tech t-shirts are game changers. If it's ridiculously hot out or seriously cold you don't want soaking wet clothes or blistered feet. You want a polyester fabric that wicks. (Can I address how much I love the word wick? I'd buy a sweat wicking shirt just because it's so fun to say.) Imagine walking into Target or Lululemon (if you're real fancy) and asking: "Pardon me, where are your sweat wicking shirts?" The kind employee responds, "Over in the sweat wicking department. Are you a runner? I'm so impressed." My favorite places to get my running clothes are Target for shirts and Nordstrom Rack for sports bras, socks and pants. I'm a girl on a budget and I try to save on my clothes while splurging on equipment. As for socks, I prefer cushioned socks with a lip on the heel because I blister and bleed on long runs. When I started running I invested in "running" socks and found my heels bloody after ever run. I have pictures to prove it, but I will spare you the horror. Lip or no lip, cushioned or un-cushioned, as long as your socks wick the sweat of your sweaty feet you will be a happy and blister free camper.
2. Orthotic Insoles
Friends, if you love your body you will buy orthotic insoles. The first thing my doctor said to me when I told him I had become a runner was buy orthotic insoles. Distance running is stressful on just about everything south of the border and orthotics help to prevent most stress related injuries. He told me if I loved my knees I would invest in them. Orthotics make a difference. Still not convinced? Here is an excellent article from Runners World on why you want to consider them. Running can be an expensive hobby but insoles are an investment you won't regret.
(Side note-did you know you're supposed to replace your shoes every 300-500 miles? I hate getting new shoes. I just remembered that not only do I need new orthotics but I also need new shoes. Stay tuned for a blog post about buying shoes, it can be really confusing.)
3. Chafe Stick
Chafe Stick is the bee's knees. It is truly the cat's meow. During the summer, I keep it in my purse. I was not blessed with the ever popular thigh gap. (I know I am a marathon runner and my thighs touch, more on that later.) But during the summer when I wear shorts around town, I apply some of this magic elixir to my thighs and I am good to go. I also have some heavy duty sports bras that rub my skin raw. I actually have teeny tiny scars from sports bra chafing. That is until I discovered this holy cream. You rub it on before you run and it helps "create a natural barrier to moisturize your skin, allow(ing) [skin] to breathe and perspiration to escape, while helping guard against irritation, chafing and blisters." The stuff is gold. If you chafe, buy it and buy lots of it. I love it. I love it. I love it.
There are tons of products out there for runners. What are some of your favorites that you just can't live without? Comment below and stay tuned for more of my favorite running gizmos and gadgets.
AND FINALLY THE MOMENT WE HAVE ALL BEEN WAITING FOR: ROUND 1 OF RACE DAY SELFIES
You guys. These race day selfies you are sending me are AMAZING. Here are our first five. And stay tuned! There are so many more!!!!!!!!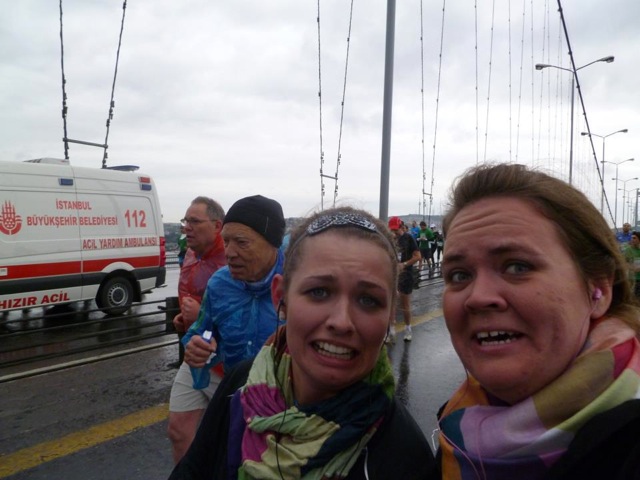 Keep sending me your stories! runselfierepeat@gmail.com And happy Tuesday!