National Running Day and A Selfie Roundup
Today was one of those Monday's that I woke up with a start overwhelmed with the amount of work and activities I had going this week. What's going on you ask? Well, yesterday I woke up to a text message from my sister because my picture from the #HottGuysOfTheNYCHalf (doesn't that feel like a decade ago?) is in the July issue of Cosmopolitan magazine! SAY WHAT!? That is pretty cool. I am so excited and really grateful to Cosmo for reaching out and including me in this issue. (AND it's the issue with Katy Perry on the cover and who doesn't love Katy Perry?) I meanm they originally asked me to do the cover with Beyonce and I was all, "I am just a modest runner lady. A small picture is fine." No that didn't happen, but all joking aside I am really, really, really excited about being in the issue! Here's the picture my sister Samantha sent me and here I am after my 10 mile run and seeing it for the first time.
Today launched my first blog with my absolute FAVORITE app RunKeeper! Click Here to read my journey to RunKeeper. If you're a runner who's thinking about running a 5k, 10k, half marathon or marathon, this is your app. It made training for my first half marathon a breeze. When I was debating whether to commit to running a full marathon RunKeeper's plan made me believe I could do it. Every race I trained for I did by myself with RunKeeper. Without it I would have NEVER stuck with running. I tried a few different apps before I chose RunKeeper and I wasn't satisfied with any of them. They were difficult to use, didn't map out the training plans in a way I understood and most importantly didn't track my progress the way I wanted. (I now use RunKeeper Elite now for even more training plans. It's worth the investment.) When I first started running I didn't want to buy a fancy race watch. I knew I was always going to keep my phone on me (for selfies and to listen to music) so why not kill two birds with one stone by having an app tell me my distance, pace and when to run faster or slower? Thanks to all my pals over at RunKeeper for the opportunity and stay tuned for my next post!
AND NATIONAL RUNNING DAY IS THIS WEDNESDAY! What's national running day you ask? WELL it's a day where we all buy these trees and put presents under them! No that's Christmas, but National Running Day is a day to celebrate running! The New York Road Runners have all sorts of groovy events planned so if you're in the New York area hit them up! Or you can head over to the Team for Kids happy hour to learn about guaranteed entry into this year's TCS New York Marathon! Anyone down to make a Run, Selfie, Repeat team!?!?!?! How cool would that be! Check it out by CLICKING HERE and get guaranteed entry to the marathon!
So how am I celebrating National Running Day? This Wednesday my company XO Group Inc. is running the Chase Corporate Challenge in Central Park!! I took over as "team captain" for one of my FAVORITE co-workers Jeremy and boy is it a lot of work! We are getting really excited for the race. We have ADORABLE team t-shirts that are groom and bride themed (Our flagship company is The Knot) and we have over 80 employees running. The race is going to be BANANAS so stay tuned for fun race photos. To selfie or not to selfie…that is the question…
I am in week 3 of TCS New York Marathon training and I am really struggling to find time to see my friends! I am not lying when I say I have convinced a couple of my friends to take up running JUST so I can see them. I'll get asked "what are you doing Wednesday want to grab a drink?" And I will reply "I have to run but if you want to come down and run or citi bike with me after work we can catch up and grab a bite to eat after." Yesterday was crazy. I had a 10 miler in the morning, ran straight to brunch with friends (I literally ran there…sitting sweaty during brunch while all your friends look fabulous is kind of gross…the first and a last time I do that), then I citi biked home to shower and then went back to the city to meet up with some friends and see the production "Four Clowns" at La Mama in the East Village.
Four Clowns is one of my FAVORITE up and coming theater companies. Back when I lived in Long Beach and San Diego I LOVED going to see their productions. I KNOW WHAT YOU'RE THINKING "aghhhhhh clowns. Scary!" No! Not scary! HILARIOUS! These aren't your Ringling Brothers, slip on a banana peel clowns. Clowning is one of my FAVORITE types of acting. Clown shows are smart, funny, poignant, simple, heart breaking and entertaining! If you haven't seen one I urge you to check one out. They are my favorite shows to see. (Still confused about what clowning is? Think Cirque Du Soleil- their shows are the epitome of blue ocean thinking and are brilliant for so many reasons. But their clowns are incredible.) If you are ever in LA, or if you happen to catch them while they tour the world, CHECK. THEM. OUT! They are doing some brilliant evolving work and their shows will make you laugh until you pee your pants, think, break your heart and cry your eyes out. Seriously, check them out. Just do it. Right now. I'm serious, I will wait.
Alright kiddos, it's my REST DAY! YAY for a day off! This means I get to go on a date looking normal, instead of going after a run when I am not sweaty and gross. (Why I continue to go on dates post run is beyond me…)Then the rest of the week is INSANITY! Tomorrow I have a little running date to plan the central park shuffle throw down with social media maven Phil (@PhillMina), the race Wednesday and tons of training so stay tuned because there is a TON of exciting things happening this week!
AND NOW-the moment we all have been waiting for….THE SELFIE ROUNDUP! Keep them selfies coming! Email me RunSelfieRepeat@gmail.com or include the hashtag #RunSelfieRepeat on The Twitter or The Instagram. These make my day.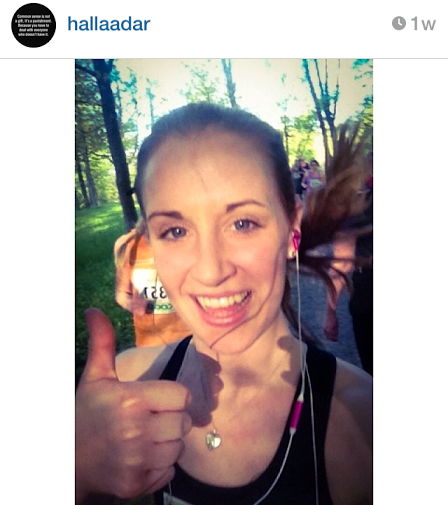 And if you're in the NY area and running the Chase Challenge on Wednesday, let me know! We can grab a quick Run Selfie Repeat photo! Alright friends! Until tomorrow #RunSelfieRepeat.