How to Run An Amazing First Half Marathon
About to run your first half marathon? This look familiar?
I get it! You're a little, well, nervous! Of course you are! Running your first half marathon is an emotional roller coaster. 13.1 miles isn't a walk in the park, it's an incredible accomplishment! When I ran my first half I had no clue what to expect or what I was doing. The entire race was a WHIRLWIND but it was one of the most incredible days of my life. Here are some of my half marathon tips to help calm your nerves so you can focus on finishing strong.
Race Day Eve
Carb Loading 101
Carb loading for a half marathon isn't entirely necessary but it's half the fun. Who doesn't love going to a restaurant and ordering spaghetti guilt free? The misconception is that when you think of carb loading you think of just stuffing your face until you explode. That's not how it works. Normal serving sizes still apply but you should focus on getting 60-70% of your calories from carbs at breakfast lunch and dinner. So bagels, sandwiches, and pasta. Try to test your meals during training so you don't run into any surprises. If it's already race weekend, don't worry about it, eat what you know your body can handle.
Study the Course
Sit down and spend some time checking out the course. Familiarize yourself with the water stations. Are they every mile? Every other mile? Every third mile? What about restrooms? You never know what is going to happen on race day and having a general idea of where everything is takes the panic out of the equation if, for example, there's a rumbly in your tumbly 7 miles in.
Lay Your Race Day Outfit and Gear Out The Night Before
The morning of the race you are going to be nervous and laying everything out makes sure you don't forget anything. I am the queen of walking out of my house without my hat, energy gels, money, etc. Save yourself the extra trips back home and the added stress by just get everything ready to go. I like to pin my bib onto my shirt the night before so I don't have to worry about it in the morning. Make sure your bib is on the front of your shirt so you can be identified in your race day pictures. If you know you are going to want to hang out after the race, think about putting a sweater and a change of clothes (at least a shirt and sports bra) into your checked bag.
Race Day
If You Don't Get A Lot of Sleep, Don't Sweat It
Before most big races I get maybe 3-4 hours of sleep. I am so excited and nervous I just can't sleep. Don't worry about it, it's completely normal, it won't affect you at all.
Eat a Small Breakfast
You want to get about 500 calories before your race. I eat a whole wheat bagel or English muffin with peanut butter and a banana. I also drink a green tea to get everything moving (wink wink) and if I am desperately exhausted from lack of sleep I'll have a coffee. DISCLAIMER: Don't eat or drink anything new. If you don't normally drink coffee before you run, don't drink coffee before you run. Eat what you normally eat and know your body can digest. You don't want any surprises during the race.
If It's Cool Outside, Bring Layers That Can Be Thrown Away
There is a lot of standing around before a race and if it's cold you want to wear as many layers as you can to stay warm. I recommend wearing pants or sweaters you don't mind throwing away to the start line. If you don't have any go to the Goodwill or Salvation Army and buy a $1 sweater and sweatpants. Or you can always wear a space blanket or garbage bag. Both work wonderfully.
Warm It Up
Don't be intimidated by the intense runners running around to warm up. Warm ups and stretches aren't necessary before a half but it may help to shake out some nerves by running for 5 minutes. Go for a quick 5 minute jog about 15 minutes before the race starts then head into your coral. I hate standing around in my coral before a race. It makes me nervous. If you find you are a little overwhelmed, hang out in your coral. Otherwise stay close to it and move around. Shake off those nerves!
Start Slow!
I have the hardest time starting slow and I will tell you from experience it is so important to start slow. You have to ease into it. If your pace is normally 9:00 minute miles, run 9:15-9:30 minute miles. You should feel a tiny bit uncomfortable because you are running behind your stride. Goal times are great but for your first half your #1 goal should be to finish. Don't worry about taking your time, it's essential and your body will thank you when you have juice to push it at mile 10.
The Beginning of the Race is Scary, Stay Calm
Some of the bigger races have intimidating starts. You are going to feel like a sardine. Just stay calm and try not to weave through the runners. It will thin out soon enough and you will have room again. Stay calm.
Break the Race Up
Keep the finish line on the back burner and break the race up. There are a bunch of ways you can do it. I break the race into 3 mile segments. I first focus on getting to mile 3, then miles 6, 9, 10, 13, and finally the finish line. Take a second and celebrate at each milestone. If I am having a particularly rough race I focus on individual miles, "Just get to mile 5. Yes! Now let's get to mile 6, you got this!"
Fuel As Needed
Some of the bigger races have drink stations every mile. You may not need water and sports drink every single mile. My general rule of thumb is every 2-3 miles with every 2 on warmer days. Listen to your body. If you are incredibly thirsty, grab some sports drink and water. I grab both sports drink and water, pour half of each out and then drink them while walking. I fold the cups in half and funnel them into my mouth to make the stop quick. But I stop to walk. Just pull over and walk. You'll be moving again in no time.
Energy Gels
If you haven't trained with energy gels, don't take one. Nothing may happen if you try it on race day (I took one for the first time during my first half marathon and nothing bad happened) but you never know if it will cause GI distress. For a half marathon I take my energy gel at mile 5. Some people do mile 6 and some say every 30- 45 minutes. Do what works for you.
Focus, Smile, and Have Fun
You may find between miles 8-10 fatigue sets in and your energy level starts to dip. Chin up, chest out, put a smile on your face, and bring your attention out of yourself. Smile at spectators, read signs, go for a high five, focus on your music, remember a happy memory, just don't focus on the fact that you have X miles to go and that your body hurts. You are going to be done before you know it. Don't get discouraged, force yourself to smile. Smile, smile, smile.
During my first half marathon around mile 11 I was really feeling exhausted and a girl who was running with Team in Training ran up beside me. She tapped me on my shoulder, I took my ear bud out, and she goes, "We've been running together the entire race. Mind if I tag along with you?" I was like "YES! I am really starting to get tired!" And she was like, "Me too." We started to chat and we found we were both running our first half and had the same goal time. Running with her lifted my spirits and took my mind off those final three miles. Because she was running with Team in Training people were constantly cheering for us (Go team!) and her coaches would run up to us to help us along. I honestly would not have made it without her. She changed my race. Don't be afraid to go up to someone you notice you have stayed with and say "Hey, mind if I run with you?" Then you can focus on passing people and getting to the finish line.
Cross the Finish Line Like A Boss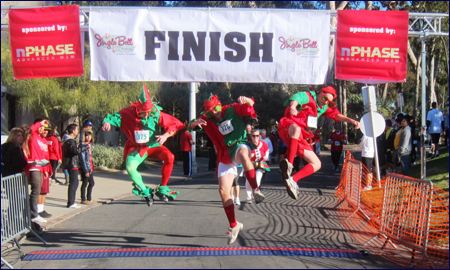 At mile 13, take off. Give it EVERYTHING you've got. And put that smile on your face because cameras are ready. Don't just blow through the finish line. Throw your arms wide, jump, do something awesome because that is a moment you are going to want to remember for the REST of your life. You just ran a HALF MARATHON! A HALF MARATHON! YOU! AMAZING! You are incredible. Wear your medal with pride, grab your goodies, eat that banana, grab a chocolate milk, and enjoy your post race beer! Take pictures with your friends. Do that happy dance because you are a bad ass. And if you need some inspiration, here's how to cross the finish line like a boss. (CLICK HERE.)
Just remember to have fun. There's nothing to be nervous about! In those moments when you don't think you can go another step, keep going. If you have to stop to walk, stop to walk! Just walk for a few minutes and start running again. Listen to your body, smile, and try to enjoy every moment. It happens so fast, try to take it all in! Happy racing everyone-remember to tag your runfies, running, and race day pics with the #RunSelfieRepeat! Until tomorrow, #RunSelfieRepeat.