The SIX:02 It's Your Time 6K and Facing My Fears
When SIX:02 invited me to come out to Dallas to run their inaugural SIX:02 It's Your Time 6K this past weekend I faced a huge giant mountain I like to pretend doesn't exist. I may come off as this confident fearless lady but…I have a confession to make…I'm actually kind of shy and terrified about making new friends. I know! Weird-o crazy me who takes double chin pictures and is constantly telling you to shoot for the stars is seriously terrified about meeting new people and introducing myself to strangers. I'm only human! I can't help it! I don't know why but I get so anxious when I'm a lone ranger who doesn't know anyone! I'm not kidding, the only reason I am so loud and goofy is because that's the only way I can get myself to be confident in a sea of strangers. I'm mostly terrified that I won't measure up to expectations.
I know I make these crazy faces in my selfies and act like a total fearless goofball, but there's still a huge part of me that is shaking in my boots. I like to think of it like getting in a pool. You can stay out because you don't want to get cold or wet, you can dip your toe and slowly get in, or you can just run and cannonball. The only way I can overcome social anxiety is to PROCLAIM "CANNONBALL" and then plunge into the pool. Otherwise I probably wouldn't even show up or worse spend the entire time in a corner, by myself, on my phone.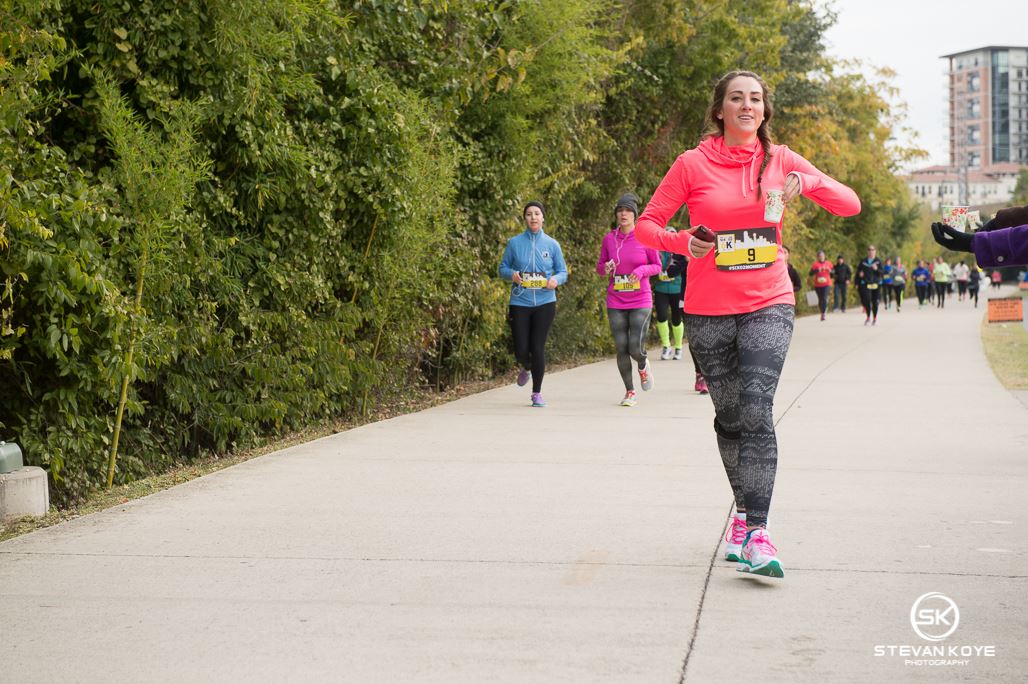 Despite my initial nerves I am so glad I participated. The SIX:02 It's Your Time 6K is a must run race. If you are in Dallas next year make sure you run or walk because I guarantee this is going to become a must run series. What makes it so special?
1. The Swag
A top of the line BEAUTIFUL dry tech Asics shirt (best race shirt I've ever gotten), a really nice re-usable water bottle, a towel, and a quality bag (seriously they spared no expense). I've never been so excited for a swag bag IN MY LIFE.
2. The Course
DALLAS. IS. BEAUTIFUL. This was my first time to Dallas and this course is perfect for everyone from first time runners and walkers to speed racers. It's almost completely flat with one tiny hill at the end to remind you that you are a badass. The entire time I was screaming "what's that?!" Or, "It's so beautiful here!" And luckily all the women around me happily took turns explaining what everything was so I got a locals tour of Dallas. It was amazing.
3. The SIX:02 Moments
SIX:02 gave out special blank bibs and encouraged participants to fill in their SIX:02 Moments. There were bibs that exclaimed "My first race", there were bibs proclaiming "Training for my first half (or full) marathon," there were bibs in honor of loved ones and causes, and there were bibs that read "Because I can." I couldn't stop asking people about their SIX:02 Moments and it was the most memorable race I've ever run. Listening to different women tell me why they started running, listening to their stories and what they are working towards or running from, it was inspiring. Grateful doesn't even begin to express how I feel towards every single woman who took the time to share their story with me. I am blown away by your fierce passion, honesty, bravery, senses of humor, passion, and impressive vigor. A lot of races try to go for the "celebrate your accomplishments" approach but this is the first one I've run that succeeded. I can't stop smiling; I'm so motivated.
4. A Unique Distance
You've heard of a 5k and you've heard of a 10k but a 6k? Besides its unique distance a 6k is the PERFECT distance. It's long enough that you feel like you've accomplished something incredible but short enough that it doesn't feel impossible if you're a new runner. And if you're a speed racer this is a fun race to tackle.
4. The Race Necklace
Who needs a medal when you can have a GORGEOUS necklace? I have plenty of medals and though they mean a whole hell of a lot to me, there's not much I can do with them. BUT A NECKLACE? What an incredible little talisman and keepsake that you can wear whenever you want! I love this necklace, I'm wearing mine right now.
5. The Post Race Party
One thing I rarely do after a race is hang out at the finish but after this race I SHUT THE PLACE DOWN. SIX:02 went above and beyond turning their finish line into a day spa and encouraged participants to "Go From Sweaty to Ready!" There were manicurists, shoulder massages, hairstylists, makeup artists, and beautiful couches with grey chevron side tables to hang out on. It felt expensive y'all. Looking around you could tell this wasn't some thrown together fun run, it was an event. It felt chic. And there was a step and repeat you could take pictures at and they would email AND print copies for you. Very, very cool.
6. Get Social and Get Inspired
I'm a lover of social media and the selfie. Honestly taking selfies of myself running was one of the big reasons I became a runner. It was my way of saying "I'm doing something with my life." So I am a really big fan of the social element to the It's Your Time 6k. The #SIX02Moment hash tag was everywhere and it was just another awesome way to share your story to motivate and encourage others. Most races feel competitive and sometimes it's hard to not feel like a black sheep if you want to just enjoy a race. But there was something for everyone at the It's Your Time 6K and I loved the sense of community it created. It didn't matter if you got first or finished last, just finishing was something to celebrate.

My SIX:02 Moment was being a part of it all, not as a bystander, not an independent participant, but one of many runners running together. For me it was a big reminder that even though I sometimes get nervous and succumb to those critics in the back of my head, I have to put yourself out there. Just think, I wouldn't have met all the inspiring women I met had I not and that would have been a shame. I am so grateful I got to participate, it was one of the most memorable races to date. Thanks to everyone who introduced themselves, took pictures with me, or humored me when I ran up to them. You all really mean a lot to me and are helping me challenge myself every day. Until tomorrow friends, #RunSelfieRepeat.